PLEXUS MA8110/8120 - 5 GAL PAIL ADHESIVE
Description
Two-part methacrylate adhesive designed for structural bonding of galvanized metal assemblies. Combined at a 1:1 ratio, Plexus MA8110 is a fast-curing system. Plexus MA8110 is designed primarily for bonding galvanized coated metals, in particular Hot Dipped G90 and G60. 
Key Features
Primerless adhesion to metals (including hot dipped galvanized), most thermoplastics and composites.
Has exceptional strength and elongation which allows for bonding of dissimilar materials
Excellent fatigue resistance, impact resistance and toughness
Easy to Use 1:1 ratio product
Lower odor formula
Excellent environmental resistance to salt spray and other environmental factors

Key Substrates
Raw metals Aluminum, Stainless Steel, Raw Steel, etc.
Coated metals Hot Dipped Galvanized, Electrogalvanized, Powdercoated or E-coated Metals
Thermoplastics ABS/ ABS Blends, Acrylics, Polyamides/Nylons, PBT, Polycarbonate, Rigid PVC, TPU
Composites DCPD, FRP, Gelcoat, Phenolics, Epoxy Based Composites, RIM
Properties
Color: Gray
Mix Ratio: 1:1
Shear Strength: 1,800 – 2,400 psi (12.4 – 16.5 MPa)
Adhesive: 40,000 – 70,000 cP
Activator: 40,000 – 70,000 cP
Working Time Min: 8 minutes
Working Time Max: 12 minutes
Fixture Time Min: 35 minutes
Fixture Time Max: 50 minutes
Tensile Strength Min: 3,100 psi (21.4 MPa)
Tensile Strength Max: 3,600 psi (24.8 MPa)
Tensile Elongation Min: 40 %
Tensile Elongation Max: 70 %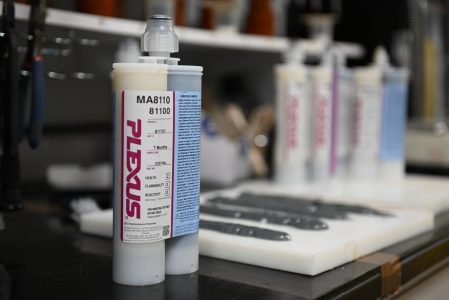 Description
An advanced direct-to-metal, low halogen two-part methacrylate structural adhesive. Plexus MA8120 is designed for the structural bonding of various metal, plastic, and composite assemblies.
Key Features
Primerless adhesion to metals (including hot dipped galvanized), most thermoplastics and composites.
Has exceptional strength and elongation which allows for bonding of dissimilar materials
Excellent fatigue resistance, impact resistance and toughness
Easy to Use 1:1 ratio product
Lower odor formula
Excellent environmental resistance to salt spray and other environmental factors
Key Substrates
Raw metals Aluminum, Stainless Steel, Raw Steel, etc.
Coated metals Hot Dipped Galvanized, Electrogalvanized, Powdercoated or E-coated Metals
Thermoplastics ABS/ ABS Blends, Acrylics, Polyamides/Nylons, PBT, Polycarbonate, Rigid PVC, TPU
Composites DCPD, FRP, Gelcoat, Phenolics, Epoxy Based Composites, RIM
Properties
Color: Gray
Mix Ratio: 1:1
Shear Strength: 1,800 – 2,400 psi (12.4 – 16.5 MPa)
Adhesive: 40,000 – 70,000 cP
Activator: 40,000 – 70,000 cP
Working Time Min: 18 minutes
Working Time Max: 22 minutes
Fixture Time Min: 70 minutes
Fixture Time Max: 90 minutes
Tensile Strength Min: 2,500 psi (17.2 MPa)
Tensile Strength Max: 3,000 psi (20.6 MPa)
Tensile Elongation Min: 45 %
Tensile Elongation Max: 65 %